BRAVIA Meeting Free Setting Methods
Stand-alone
Setting methods
Before installing BRAVIA Meeting, configure the unit's settings.
Go to the Pro Setting Mode
Pro mode
In one step settings, select your meeting room purpose.
One step settings
Set "Power" > "Eco" > "Idle TV standby" to "off".
2
Installation of BRAVIA Meeting
Copy "extapp_installer.pkg" to the USB memory root directory.
Insert the USB memory into BRAVIA.
The installation screen is displayed. Follow the on-screen instructions to proceed with the installation.
When you have finished the entire procedure, remove the USB memory and restart the system.
BRAVIA Meeting automatically starts up a short time after the system is restarted
Note:
You can start up the free version of BRAVIA Meeting from USB memory.
Keep your USB memory inserted during use.
3
Initialization of BRAVIA Meeting
To accurately display the time when BRAVIA cannot be connected to a network, you must set the time to BRAVIA Meeting by the following procedure.
Press the "9" button on the remote control on the BRAVIA Meeting home screen.

The current time setting dialog box is displayed. Set the current time, and press "OK".
Perform settings by directly operating BRAVIA Meeting with the remote control. Display the setting dialog box by pressing the "Play" button on the remote control on the BRAVIA Meeting home screen.

By setting the time until automatic power off, you can set the display to turn off after a predetermined amount of time has passed with no detection of an HDMI signal and no operations.
Note:
The date/time setting of BRAVIA Meeting is cleared when BRAVIA reboots or BRAVIA Meeting exits.
Connect BRAVIA to a network and set the date/time correctly if you want to display the clock in BRAVIA Meeting.
4
Display of a particular image or video on the home screen
1: IMAGE/VIDEO PLAYBACK USING USB MEMORY
You can play back still images and videos on the BRAVIA Meeting home screen by playing this playback media in the "media" folder or below in USB memory.
2: IMAGE/VIDEO PLAYBACK VIA A NETWORK
A network connection is required.
By setting a URL from "Web URL" on the BRAVIA Meeting setting screen, you can set the information that is displayed on the home screen.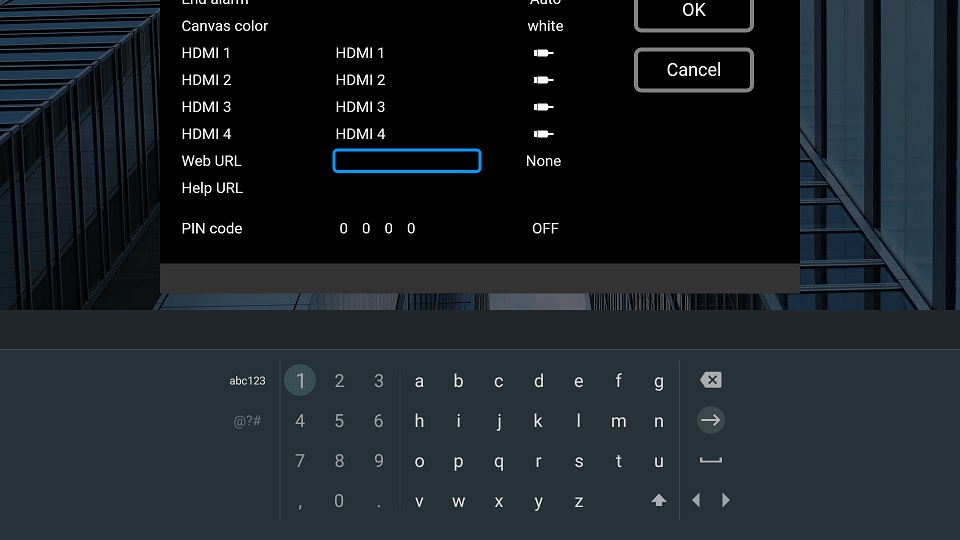 Last modified: 11 Dec 2019