BRAVIA Meeting Free Solutions
Stand-alone
With BRAVIA Meeting Free turn a regular display into a dedicated meeting room display.

Easily show Home Screen Content that meets the needs of each company, such as how to use meeting room equipment, the company logo, and messages for visitors on the home screen of the meeting room display.
Guidance Display
Since the conference room number and the conference room manual / precautions can be displayed, there is no need to use paper. All room usage instructions can be shown to screen eliminating the need for printing and training staff. You can also display content for visitors such as company logos and messages.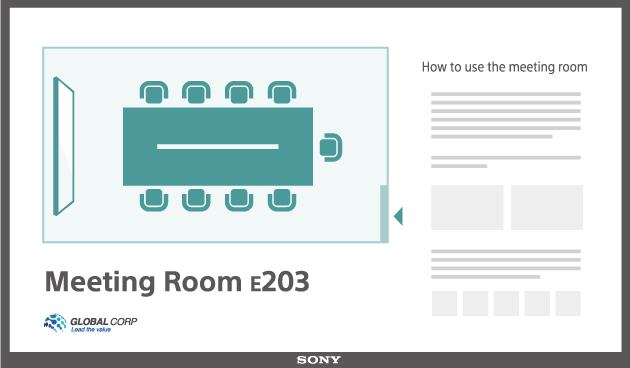 Auto Power Off
Reduce power consumption by specifying timed auto power off.

Presentation Timer
To manage presentation and meeting times the display is equipped with a timer whitch can se a presentation time and shows the remaining time every 30 seconds.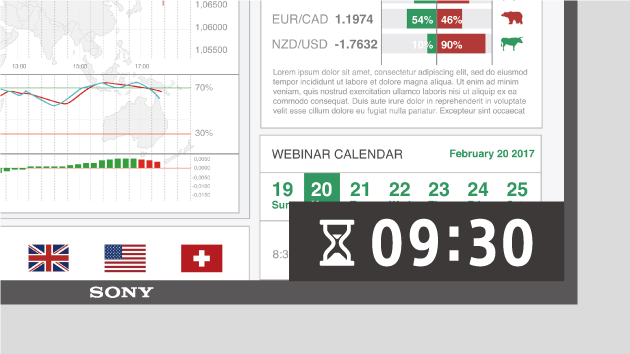 * The Pro mode feature introduced on the previous page can be used in conjunction with this solution.
For the meeting room users
You can start a meeting smoothly and presenters can stay conscious of presentation time.
For IT and facilities managers
Easily update onscreen instructions, enhance internal branding and enable customer guidance.
By setting the home screen, it can be used as a display dedicated to the conference room so that the users is unable to make unnecessary operations or change the settings.
Last modified: 25 Aug 2020