Wall Mount

Model
Installation Type
Landscape / Portrait
Tilt Angle
Availability
Wall Mount Bracket
FW-85BZ35F
A
Landscape
-20° to 0°
-
-
-
0°
✔
SU-WL500
B
0° to +60°
-
-
C
Portrait
0°
✔[1]
SU-WL500
D
0° to +20°
-
-
FW-75BZ35F
A
Landscape
-20° to 0°
-
-
-
0°
✔
SU-WL500
B
0° to +60°
-
-
C
Portrait
0°
✔[1]
SU-WL500
D
0° to +20°
-
-
FW-65BZ35F
A
Landscape
-20° to 0°
✔
SU-WL500
-
0°
✔
SU-WL450
B
0°to +60°
✔
SU-WL500
C
Portrait
0°
✔[1]
SU-WL500
D
0° to +20°
✔[1]
SU-WL500
FW-55BZ35F
A
Landscape
-20° to 0°
✔
SU-WL500
-
0°
✔
SU-WL450
B
0° to +60°
✔
SU-WL500
C
Portrait
0°
✔[1]
SU-WL500
D
0° to +20°
✔[1]
SU-WL500
FW-49BZ35F[2]
A
Landscape
-20° to 0°
✔
SU-WL500
-
0°
✔
SU-WL450
B
0° to +60°
✔
SU-WL500
C
Portrait
0°
✔[1][3]
SU-WL500
D
0° to +20°
✔[1][3]
SU-WL500
FW-43BZ35F
A
Landscape
-20° to 0°
-
-
-
0°
✔
SU-WL450
B
0° to +60°
-
-
C
Portrait
0°
✔[1][3]
SU-WL500
D
0° to +20°
✔[1][3]
SU-WL500
[1]: For the display with ✔, the following are necessary.
Spacer: a washer with an outside diameter of 18 mm, inside diameter of 10 mm, and thickness of 2 mm (SONY Part Number 7-688-000-32) × 20
Screw: PSW M6 × 25 mm (SONY Part Number 4-577-326-01) × 4 (1 pk)
[2]: Make brightness setting to Standard or Custom 37 and lower.
[3]: When installing FW-49BZ35F or FW-43BZ35F in portrait orientation, a portion of the Base Bracket is not hidden behind the display.
SU-WL500
Be sure to read thoroughly the all safety information described in the instruction manual of SU-WL500.
Do NOT use SU-WL450 for installation in the way noted in the manual.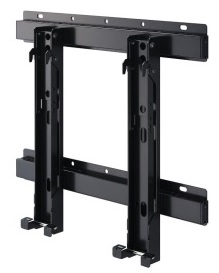 Provide adequate clearances around the display.
The following illustration shows how much space is required around the display. Be sure to install the display in the orientation shown in the following illustration.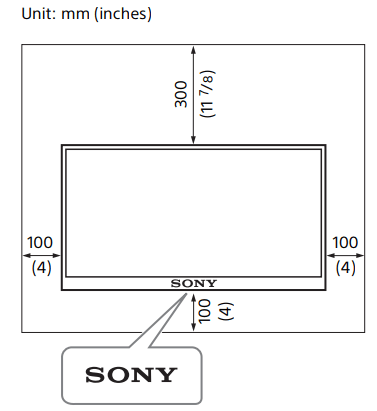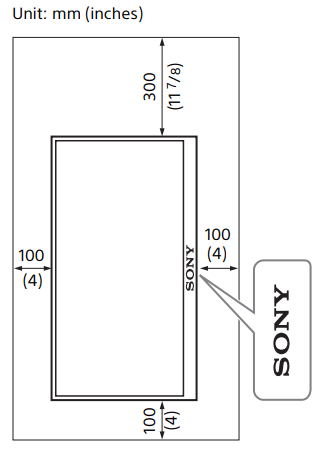 Do not block the ventilation holes of the display.
If you block the ventilation holes with tapes or other objects, heat builds up inside the display and may cause a fire.
Others
Third party wall mounts may be used screw placement dimensions meet the required conditions. For details, please see the user manual of BZ35F Series. Use and safety is not guaranteed by Sony and much be checked with the supplier.

If you cover the illumination LED and its surroundings with tapes or other objects, the status of the display cannot be recognized and the remote control may not work.

When carrying the display, hold it in landscape orientation, and take care not to drop it when installing. Do not apply excessive force to the display; otherwise, it may be deformed.

Operating temperature: 35℃ and lower (Installation type A to D)
Downloads