One step setting
Estimated reading time: 6 minutes
This BRAVIA setting is the most used setting by corporations. The optimum settings for when using BRAVIA as a display in conferences rooms and as a signage display can be set by just one button.
Meeting Room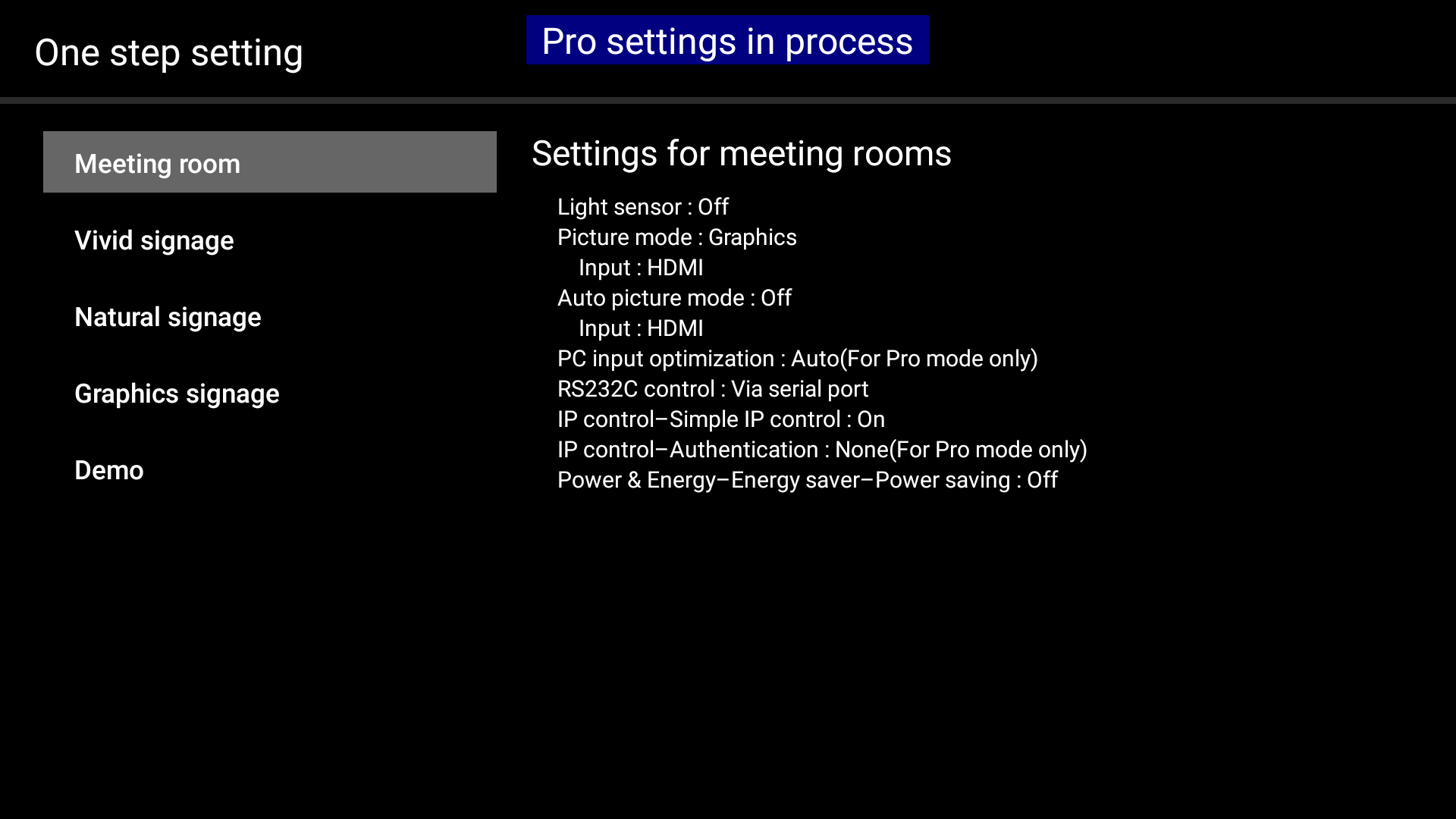 Settings Item
Setting Value
Description
Light sensor
Off
This function automatically changes luminance according to the surrounding brightness. When this is set to OFF, the preset luminance is held.
Picture mode
Graphics (Input: HDMI)
Auto picture mode
Off (Input: HDMI)
PC imput optimization
Auto (For Pro mode only))
Images are displayed full-screen with the aspect ratio held intact matched to the input format of the PC.
RS232C control
Via serial port
IP control-Simple IP control
On
IP-based control is enabled. Other equipment can be linked as well. The default setting for Authentication is None if the Pre-shared key is not set.
For details on the Pre-shared key, click here.
(In the Normal mode, only "Normal" and "Preshared-key" can be selected for IP control. For this reason, this setting is enabled only in the Pro setting mode.)
IP control-Authentication
None (For Pro mode only)
Power & Energy-Energy saver-Power saving
Off
The Eco function dims brightness and shifts the mode to the power save mode after a fixed period of inactivity. This setting turns that function OFF.
Vivid Signage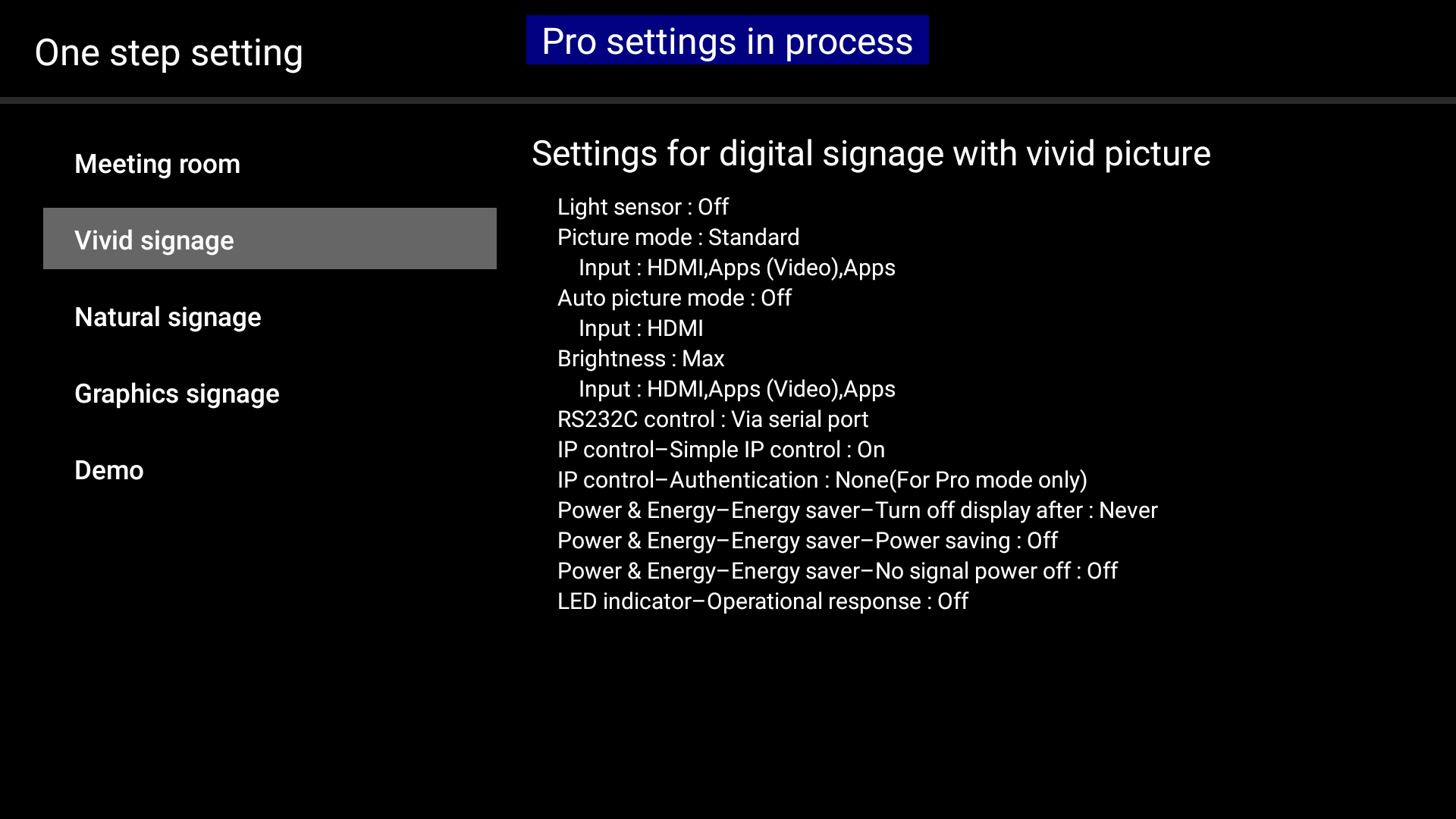 Settings Item
Setting Value
Description
Light sensor
Off
This function automatically changes luminance according to the surrounding brightness. When this is set to OFF, the preset luminance is held.
Picture mode
Standard
(Input: HDMI, Apps (Video), Apps)
Auto picture mode
Off (Input: HDMI)
Brightness
Max (Input: HDMI, Apps (Video), Apps)
RS232C control
Via serial port
IP control-Simple IP control
On
IP-based control is enabled. Other equipment can be linked as well. The default setting for Authentication is None if the Pre-shared key is not set.
For details on the Pre-shared key, click here.
(In the Normal mode, only "Normal" and "Preshared-key" can be selected for IP control. For this reason, this setting is enabled only in the Pro setting mode.)
IP control-Authentication
None (For Pro mode only)
Power & Energy-Energy saver-Turn off display after
Never
The Eco function dims brightness and shifts the mode to the power save mode after a fixed period of inactivity. This setting turns that function OFF.
Power & Energy-Energy saver-Power saving
Off
Power & Energy-Energy saver-No signal power off
Off
LED indicator-Operational response
Off
Natural Signage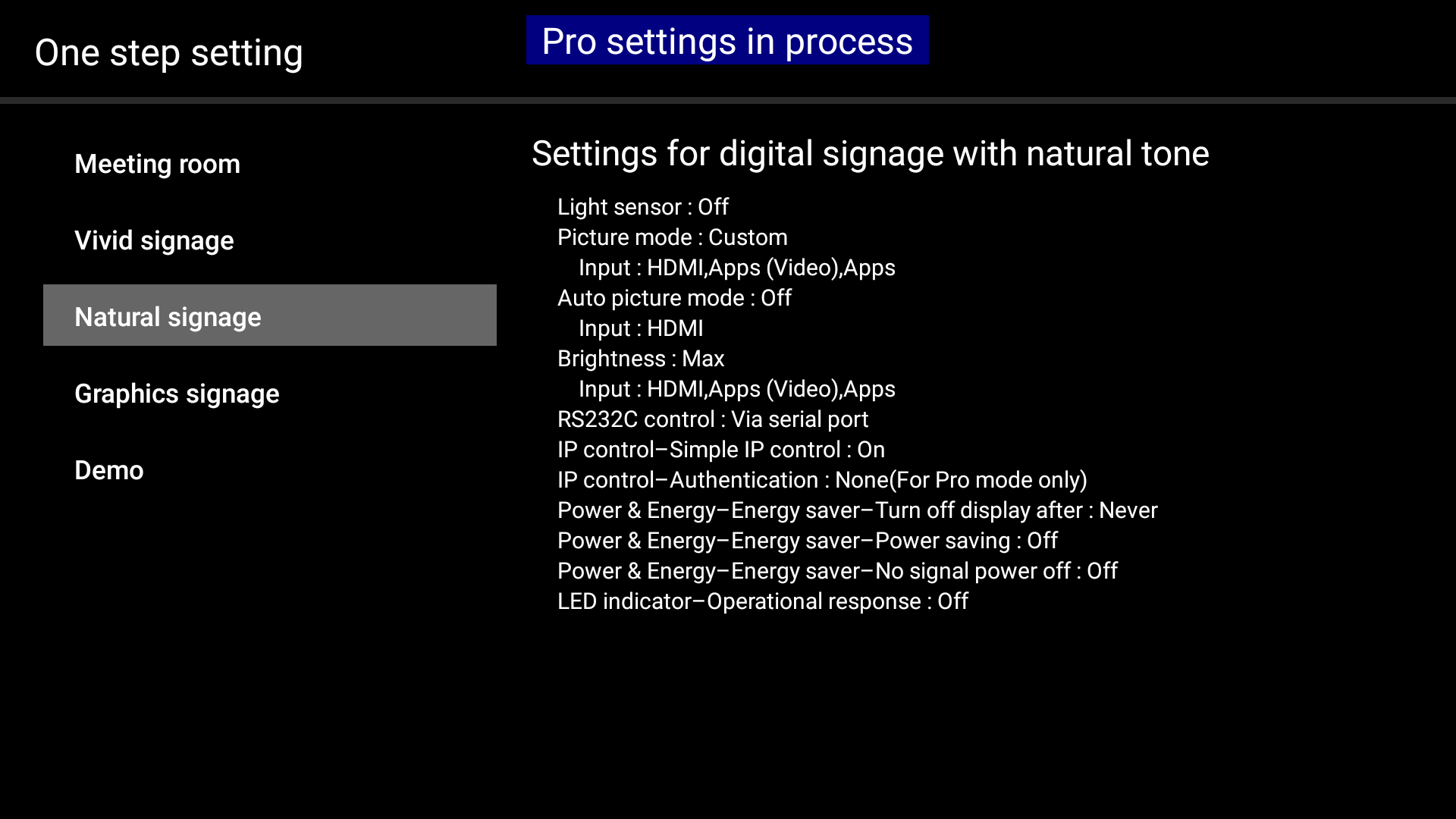 Settings Item
Setting Value
Description
Light sensor
Off
This function automatically changes luminance according to the surrounding brightness. When this is set to OFF, the preset luminance is held.
Picture mode
Custom
(Input: HDMI, Apps (Video), Apps)
Auto picture mode
Off (Input: HDMI)
Brightness
Max (Input: HDMI, Apps (Video), Apps)
RS232C control
Via serial port
IP control-Simple IP control
On
IP-based control is enabled. Other equipment can be linked as well. The default setting for Authentication is None if the Pre-shared key is not set.
For details on the Pre-shared key, click here.
(In the Normal mode, only "Normal" and "Preshared-key" can be selected for IP control. For this reason, this setting is enabled only in the Pro setting mode.)
IP control-Authentication
None (For Pro mode only)
Power & Energy-Energy saver-Turn off display after
Never
The Eco function dims brightness and shifts the mode to the power save mode after a fixed period of inactivity. This setting turns that function OFF.
Power & Energy-Energy saver-Power saving
Off
Power & Energy-Energy saver-No signal power off
Off
LED indicator-Operational response
Off
Graphics Signage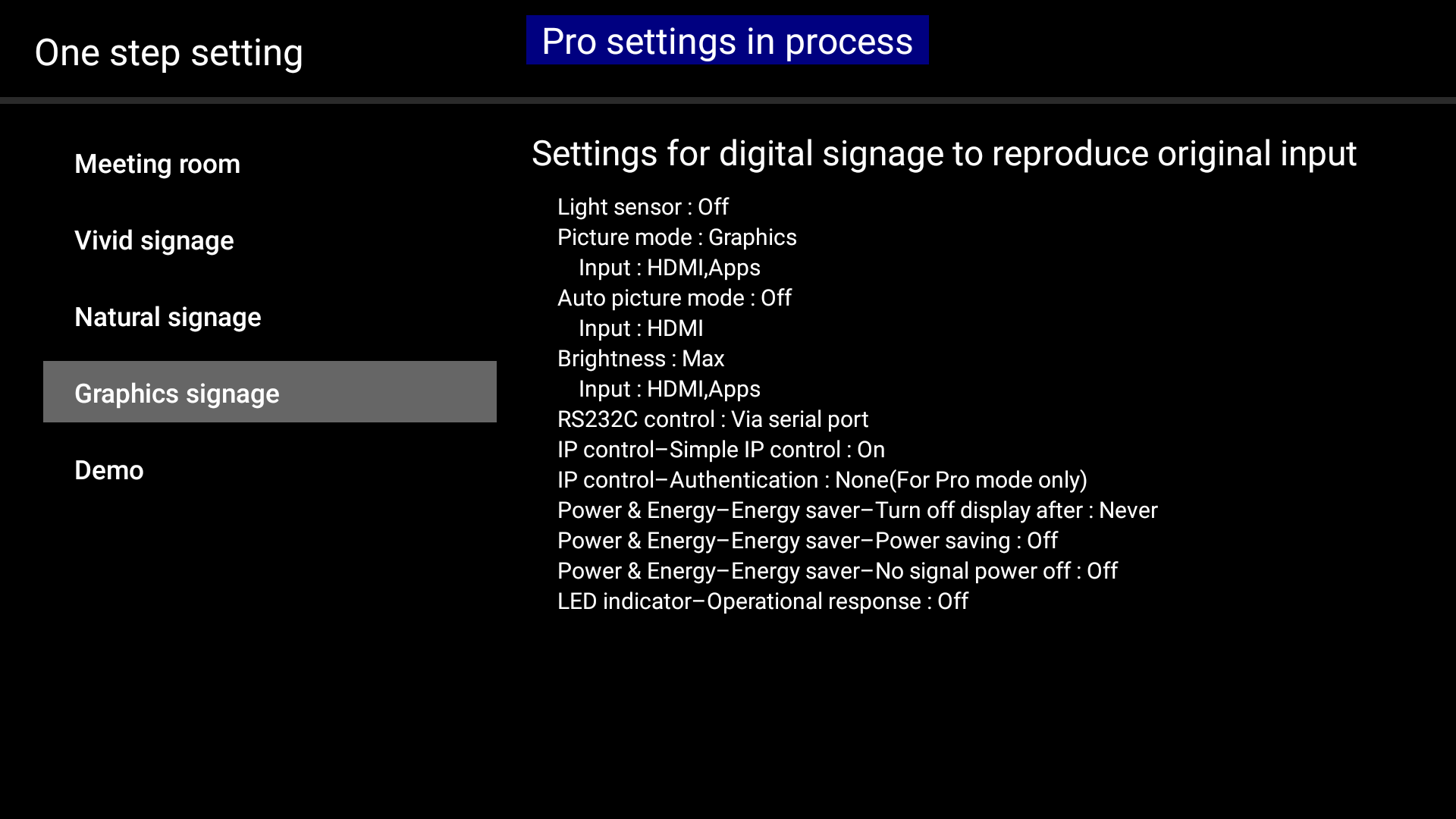 Settings Item
Setting Value
Description
Light sensor
Off
This function automatically changes luminance according to the surrounding brightness. When this is set to OFF, the preset luminance is held.
Picture mode
Graphics
(Input: HDMI, Apps)
Auto picture mode
Off (Input: HDMI)
Brightness
Max (Input: HDMI, Apps)
RS232C control
Via serial port
IP control-Simple IP control
On
IP-based control is enabled. Other equipment can be linked as well. The default setting for Authentication is None if the Pre-shared key is not set.
For details on the Pre-shared key, click here.
(In the Normal mode, only "Normal" and "Preshared-key" can be selected for IP control. For this reason, this setting is enabled only in the Pro setting mode.)
IP control-Authentication
None (For Pro mode only)
Power & Energy-Energy saver-Turn off display after
Never
The Eco function dims brightness and shifts the mode to the power save mode after a fixed period of inactivity. This setting turns that function OFF.
Power & Energy-Energy saver-Power saving
Off
Power & Energy-Energy saver-No signal power off
Off
LED indicator-Operational response
Off
Demo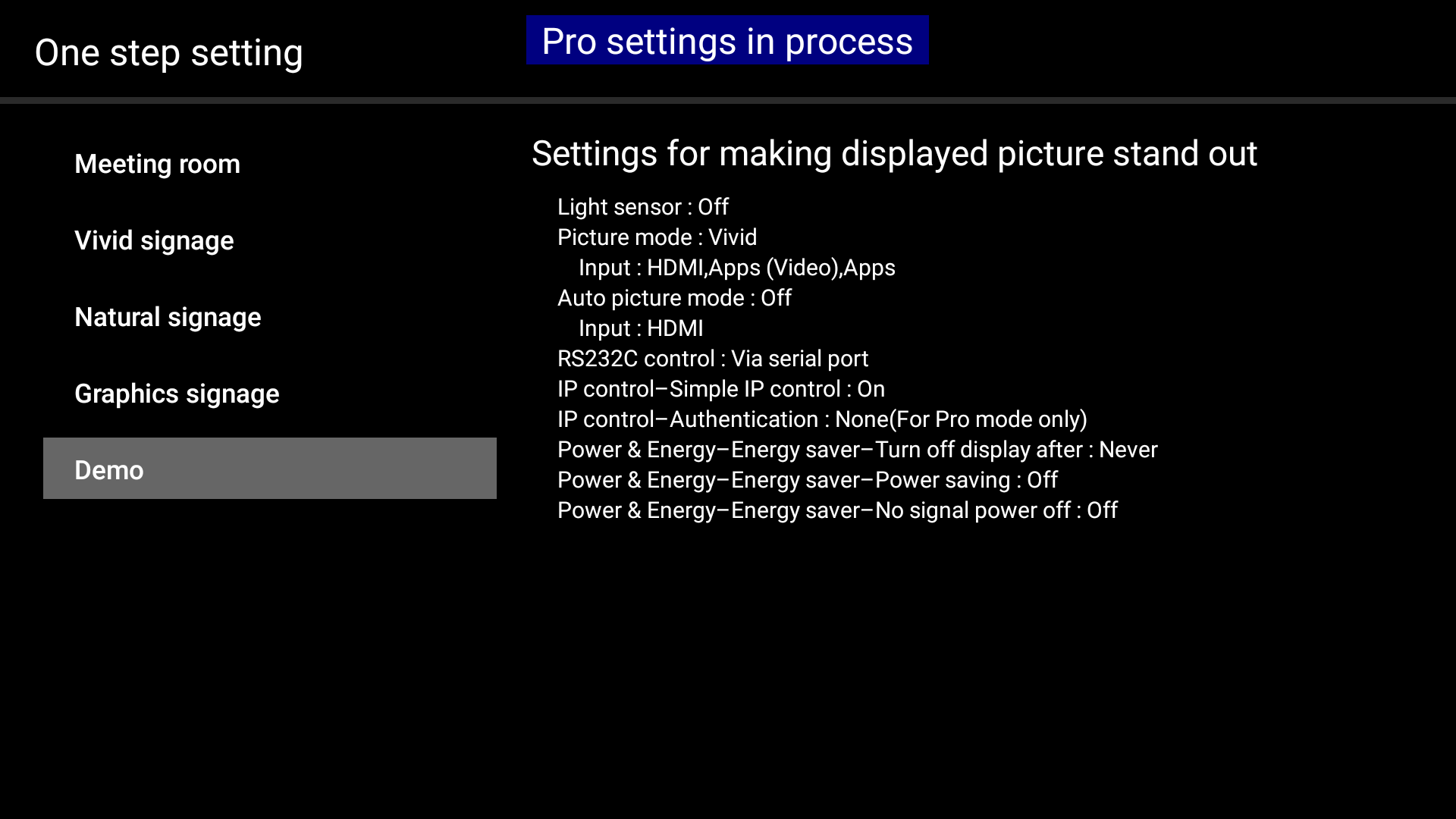 Settings Item
Setting Value
Description
Light sensor
Off
This function automatically changes luminance according to the surrounding brightness. When this is set to OFF, the preset luminance is held.
Picture mode
Vivid
(Input: HDMI, Apps (Video), Apps)
Auto picture mode
Off (Input: HDMI)
RS232C control
Via serial port
IP control-Simple IP control
On
IP-based control is enabled. Other equipment can be linked as well. The default setting for Authentication is None if the Pre-shared key is not set.
For details on the Pre-shared key, click here.
(In the Normal mode, only "Normal" and "Preshared-key" can be selected for IP control. For this reason, this setting is enabled only in the Pro setting mode.)
IP control-Authentication
None (For Pro mode only)
Power & Energy-Energy saver-Turn off display after
Never
The Eco function dims brightness and shifts the mode to the power save mode after a fixed period of inactivity. This setting turns that function OFF.
Power & Energy-Energy saver-Power saving
Off
Power & Energy-Energy saver-No signal power off
Off
Last modified: 7 Aug 2023